On December 11th, 2015,
The Guardian
released an article discussing how Egypt had decided to shut down one of Alaa-al Aswany's public seminars. Aswany first burst into the world of literature in 2002 with his second novel,
The Yacoubian Building
. Not only was it a bestseller in Arabic, but the English translation and movie were incredibly popular as well. Because of this, he is able to maintain a high-profile through his newspaper columns, novels, and public speaking endeavours. He is considered a controversial speaking because he creates debate and showcases his viewpoints on certain political aspects of Egypt.
Alaa Al Aswany
Aswany was supportive of Egyptian President Sisi's use of military intervention against the Muslim Brotherhood, even after a mass killing of Muslim Brotherhood supporters in August of 2013. However, he was incredibly critical of Sisi's style of governance, and actually campaigned against him in the election of May of 2014 on behalf of Hamdeen Sabahy, the socialist candidate. His criticism of President Sisi drew enough attention to have the novelist banned from publishing his weekly column in Al Masry Al Youm, an Egyptian newspaper, and from appearing in any media run by the state of Egypt. As a result, Aswany has been quoted as saying that under Sisi's government "freedom of expression does not exist" and is adamantly opposed to any form of dictatorship. He now uses social media to communicate with his Egyptian audience, considering it "the only space left for free expression."
The cancellation of Aswany's talk still accentuates the point that Sisi's tolerance for any type of criticism or non traditionalist ideas are dwindling. In the past few years, numerous journalists and activists have been jailed. It has affected writers as well. For example, Ahmed Naji went to trial in November of 2015 due to a chapter within his novel
The Use of Life
, which was accused of "offending public morals." In February of 2016, he has given a harsh two-year prison sentence for "violating public modesty." This is just one of many examples of authors being restricted and punished in regards to their works.
Hence, the Arabic Network for Human Rights Information condemned the cancellation of Aswany's seminar, saying that "he (Aswany) is being subjected to smear campaigns." In 2015, Aswany released two books in English translation:
The Automobile Club
and
Democracy Is the Answer
. His loyal Egyptian fans are hoping that his second book can inspire a change in Egyptian politics and society and allow them to regain their freedom of expression. Much to their dismay, that change is yet to be seen.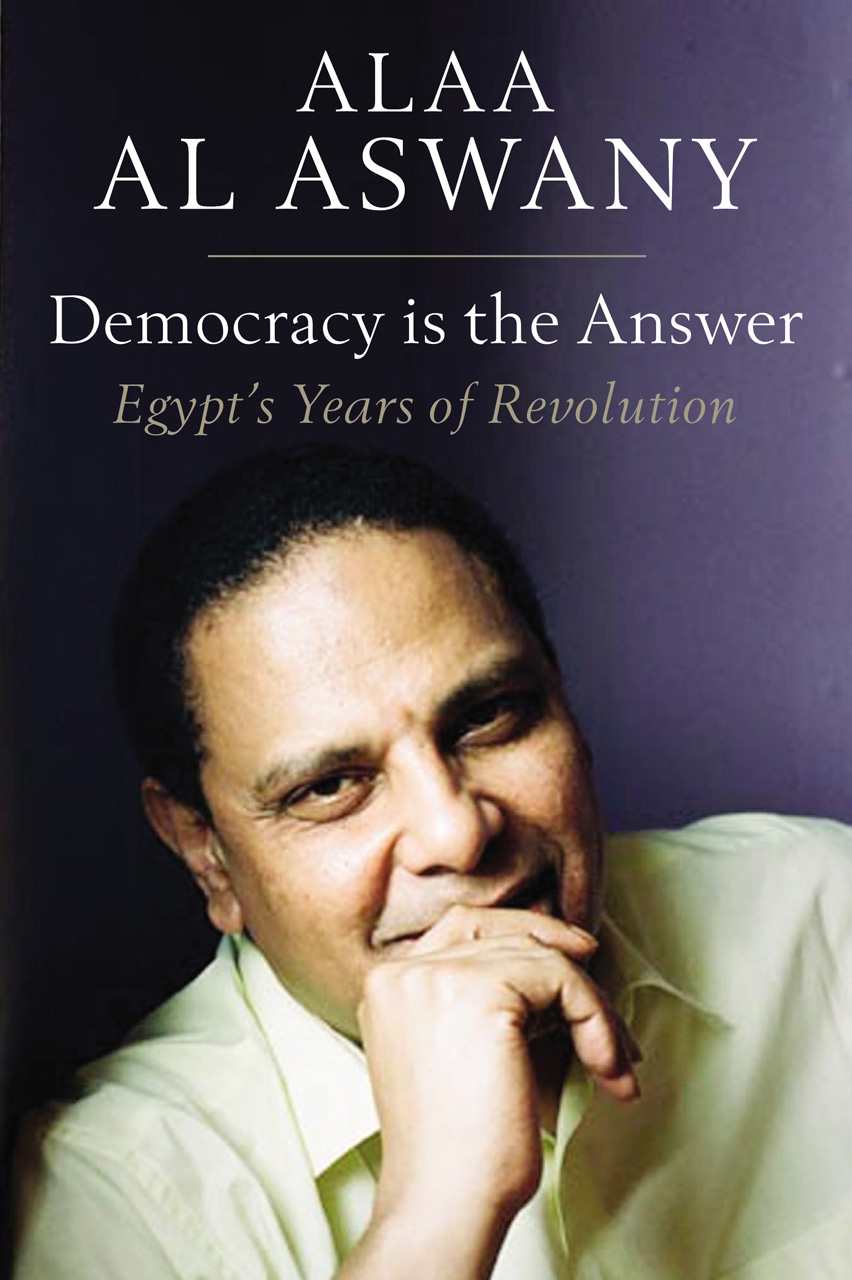 Bibliography:
Qualey, Marcia Lynx. "Egypt Shuts down Novelist Alaa Al-Aswany's Public Event and Media Work."
The Guardian
. Guardian News and Media, 11 Dec. 2015. Web. 10 Apr. 2016.
Images:
http://www.platonphoto.com/photos/36-1214-a.jpg
http://tmm.chicagodistributioncenter.com/IsbnImages/9781909942714.jpg